To make or schedule the initial payment, you'll need your routing number and bank account number.
If your account shows two or more returned payments in the previous 12 months, neither immediate nor scheduled payments are available as payment options.
To make a payment, you may use this official links below:
https://www.dominionenergy.com/virginia/billing/pay-my-bill
Pay your Dominion Energy bill on our website, by automatic bank draft or through your bank – either in person, by mail or via credit card.
https://www.dominionenergy.com/ohio/billing/pay-my-bill
Dominion Energy Ohio offers quick and easy bill pay options. Make a payment online, in-person, via automatic bank draft, credit or debit card, or by mail.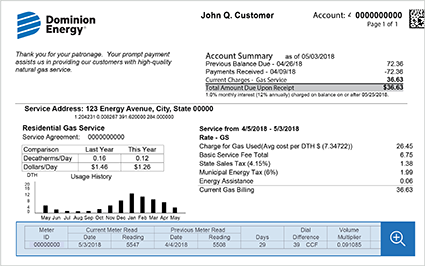 By Mail* Pay your energy bill by mailing in a check.
How it Works
Make a payment from one bank account to another using an electronic transfer.
Theres no service charge for ACH payments.
To determine whether your financial institution can meet our banks' requirements, preview the formatting information.
When you are ready, please email us at [email protected] com to start the ACH onboarding process and obtain the full bank account information and transit/ABA number.
Please Note:
Payments and data (customer account number and amount) must be sent by the customer or financial institution via ACH in the Corporate Trade Exchange (CTX) or Cash Concentration and Disbursement Plus (CCD) file format. Any other format will be rejected by Dominion Energy's bank, which will cause delays in payment posting.
Please be aware that Dominion Energy uses the same Wells Fargo account in Virginia, North Carolina, Ohio, and West Virginia, but uses different unique identifier biller names (i e. , 540418825-DOM, 340194760-DOM, 550196830-DOM).