In Hernando County, Florida, residents and businesses have access to utilities that include electricity, water, and sewer services. Paying these utilities bills can be confusing and time-consuming, but there are several convenient ways to pay your bills. In this blog post, we will walk you through the process of paying your Hernando County utilities bill. We will explain the different payment options available, discuss payment deadlines, and provide helpful tips for avoiding late payments. With the information provided in this post, paying your Hernando County utilities bill will be quick and easy. All you need to do is follow the instructions, and you'll be on your way to a hassle-free payment experience.
To make a payment, you may use this official links below:
https://www.hernandocounty.us/departments/departments-n-z/utilities/online-payments
Paying your Hernando County Utilities Bill Online. payment website is above; Enter required information, Hernando County Utility Account Number is
https://www.hernandocounty.us/departments/departments-n-z/utilities-department/customer-services/how-to-pay-your-bill
Pay By Mail: Mail your HCUD water bill payment to the following address: Hernando County Utilities Department P.O. Box 30384. Tampa, FL 33630-3384.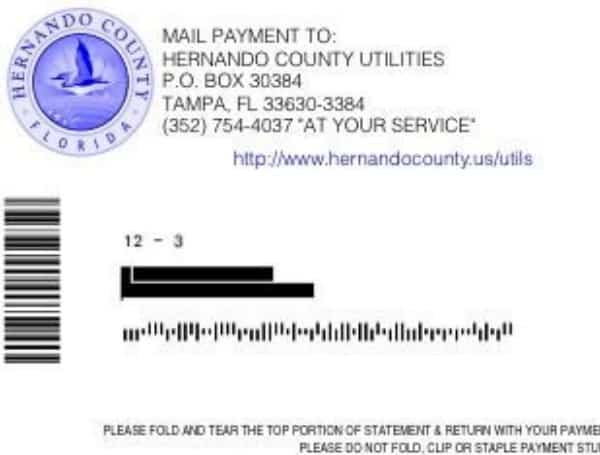 Please note, our Customer Care Specialist are not able to take credit card payments in person or over the phone.
Twenty days after the bill's due date, utility bills become past due.
Please contact HCUD Collections team if your account is delinquent, 352-754-4037, press #3 and then #4 to inquire about a payment arrangement or payment plan.
Extensions of time for making payments will be accepted after your service has been disconnected for nonpayment. All past due charges and fees must be fully paid in order to resume service. To make a payment, Press #3 and then #3.

Disconnection may result in an additional deposit being required

Not receiving a bill does not shield against service interruptions or supplemental service fees.
We are dedicated to safeguarding our clients' privacy rights in Hernando County. The Privacy Act, our Privacy Policy, and other Federal statutes guarantee these rights. Your personal data submitted through the Invoice Cloud Payment System website will only be used for the purposes specified at the time of collection.
By signing up with Invoice Cloud, you can use Automatic Bill Payment (EFT).
FAQ
What electric company does Hernando County use?
Hernando County – SECO Energy.
What is the average water bill in Hernando County Florida?
Residential water and wastewater utility customers nearby pay $87 on average. 05 per month for service.
Who is the electric provider for Spring Hill Florida?
Duke Energy – Home. You need to enable JavaScript to run this app.
What is invoice cloud webpayment?
A web-based, electronic billing and payment company called Invoice Cloud offers prompt, secure, and practical billing services. Customers can click and pay online while saving the environment by reducing the need for paper thanks to automated billing and payment.