Managing bills can be a difficult, time-consuming task. Whether it's ensuring that you don't go over budget or making sure all bills are paid on time, keeping track of payments can be difficult and frustrating. However, there are many tools available to help simplify the process. Mayo Bill Pay is just one example of a convenient and secure way to manage your bills and payments.
Mayo Bill Pay is an online payment service that allows users to pay their bills quickly and easily. Mayo Bill Pay is secure and safe, protecting your personal and financial information. With Mayo Bill Pay, you can pay for bills online, by phone, or even through text message. You can also schedule automatic payments for any bills you may have. Plus, you can take advantage of convenient features such as alerts and reminders when your bills are due or when you have a payment due.
Overall, Mayo Bill Pay is a great option for those looking for an easy and secure
To make a payment, you may use this official links below:
https://www.mayoclinichealthsystem.org/online-bill-pay
Quickly make a payment online.
https://quickpay.mayoclinic.org/
Access your account. You can access the account using either a Guarantor ID or a Visit #. To find the Guarantor ID or Visit # look on the sample billing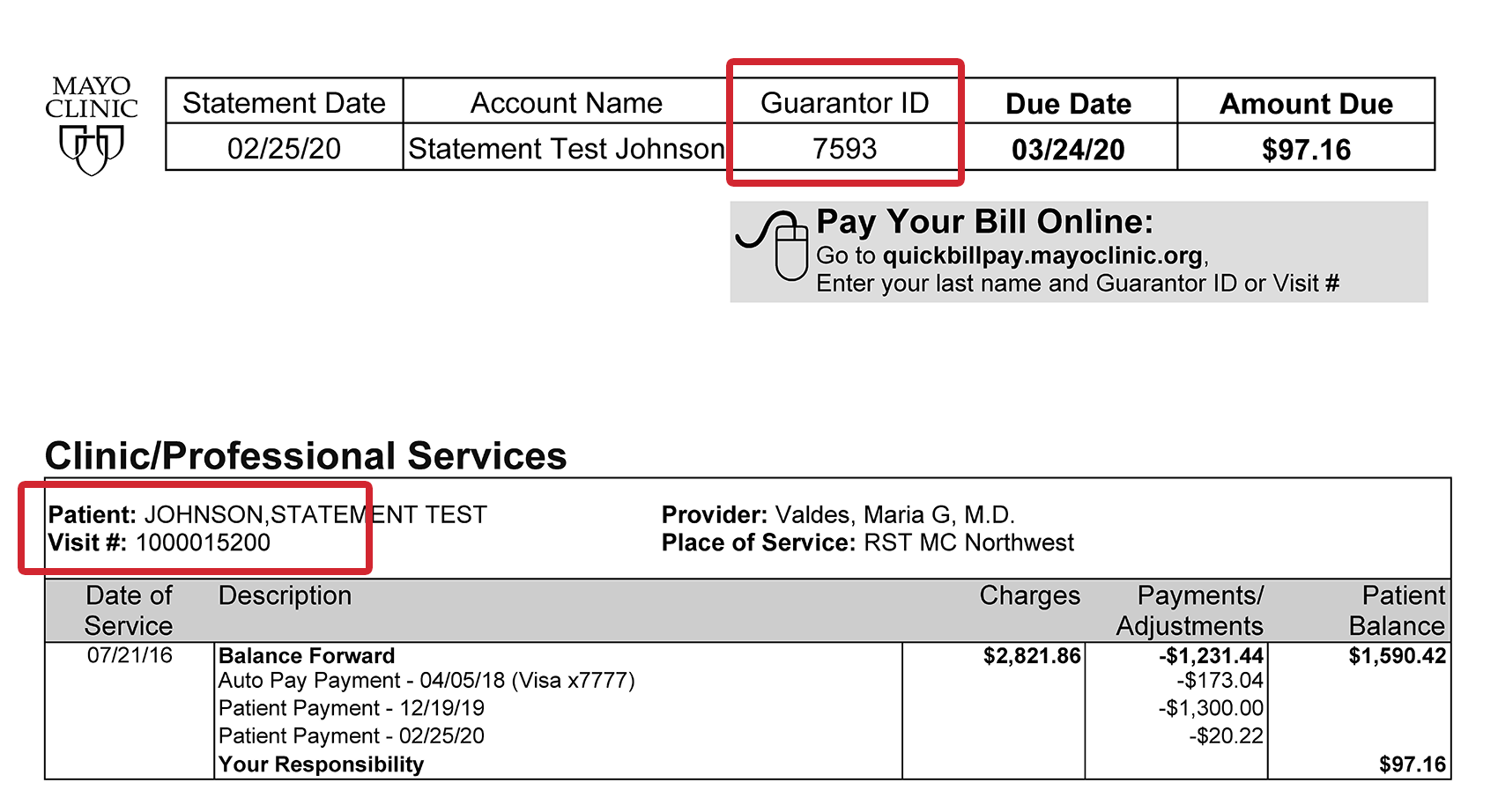 FAQ
How do I pay my Mayo Clinic bill?
Please call 844-217-9591 toll free Monday through Friday to pay your bill or ask questions about your statement.
…
For your convenience, Mayo Clinic accepts:
Discover, MasterCard, American Express and Visa credit or debit cards.
Cash, cashier's check or money order.
Wire transfers.
How do I access the Mayo Clinic Portal?
You must have a Mayo Clinic number and a working email address to create an account. Go to Patient Online Services and select 'Create an Account'. Once your account setup is complete, you will receive an email confirmation.
What is the phone number for Mayo Clinic subscription services?
Call Patient Account Services at 844-217-9591 on Monday through Friday toll-free.
What is the billing number for Mayo Clinic AZ?
Arizona campus: 833-843-5315 (toll-free)